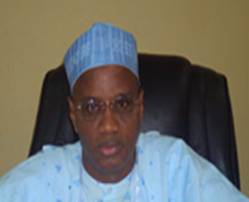 Wife, Aisha, now Member-Elect House of Representatives

Executive Secretary of Universal Basic Education Commission (UBEC), Dr. Mohammed Ahmed Moddibo today told a Federal High Court sitting in Abuja that he awarded UBEC contracts worth billions of Naira to several companies belonging to his wife, Aishatu, who is now a member-elect of the House of Representatives.

He also told the court that an American firm he had earlier accused of defrauding the Federal Government of N850 million, Intermarkets USA, satisfactorily concluded the contract for which it is standing trial and therefore has no case to answer.

At the resumed hearing of a suit by the Economic and Financial Crimes Commission (EFCC) against certain UBEC officials and Intermarkets USA, Modibbo told a stunned court that he awarded the contracts to companies belonging to Aishatu, but that the awards were before he married the businesswoman.


The companies include Binani Nigeria Ltd., Ojunwa Press Limited, Triangular Communications Ltd. Al-Mala Nigeria Ltd., and Binwa Press Limited. Other companies Modibbo admitted belonged to his wife are Golden Crescent Ltd., Giniyke Associates, Isani Ventures and Infinity Telecoms Systems.

On June 22, 2009 alone the Federal Ministry of Education Tender's Board awarded contracts worth N6.7 billion of which N3.57 billion went to the afore-mentioned companies which Modibbo admitted belonged to his wife.

Earlier, on December 29, 2008, two days to the end of the year, Modibbo awarded contracts totalling N180 million to six companies belonging to Aishatu. The beneficiaries were Al-Mala (N29.28 million), Triangular Communications (N35.45 million), Binwa Press Limited (N36.72 million) and Infinity Telecoms (N24.7 million). Also, Isani Ventures got a contract worth N31.1 million and Giniyke Associates, N30.7 million.

The UBEC boss however told the court presided by Justice Bello Adamu that since February 13, 2010, when he got married to Aishatu, none of her companies have benefitted from UBEC contracts, a claim which was faulted by counsel to Intermarkets, Mr. John Odubela. The judge had overruled EFCC's counsel, Mr. Wahab Shittu, who had made spirited attempts to stop Modibbo from answering questions on his marital relationship with Aishatu.



Odubela told the court that he had evidence that the relationship between the UBEC boss and Ayishatu predated his appointment as the commission's boss and that it could not have been by sheer coincidence that several of her companies were shortlisted for prequalification in November 2008, December 2008 and May 2009.

Counsel to Intermarkets thereafter tendered in evidence a copy of a full page congratulatory advert placed by Aishatu for Modibbo in the Daily Trust newspaper of December 10, 2010. In the advert Aishatu referred to her husband as "Anti-corruption Star".

Under cross examination, Modibbo told the court that he on January 21, 2010 deposed to an affidavit to the effect that Intermarkets successfully completed Phase 1 of the contract for the manufacture and supply of plastic school furniture, three years after he told EFCC that the contract was not successfully completed.

He also admitted that the entire contract sum was N850 million of which N787.968 million was for the procurement of materials. The UBEC boss further told the court that, contrary to his earlier claim that Intermarkets did not deliver the school furniture to Anambra and Abia states, he had since stumbled on documents signed by himself suggesting the contrary.