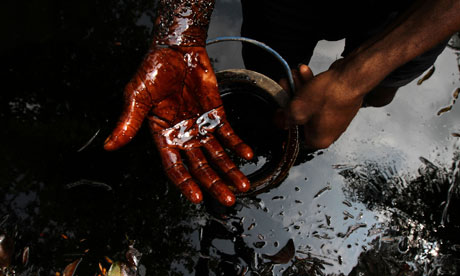 Shell oil activities in Ogoniland in the Niger delta have polluted rivers. Photograph:
Akintunde Akinleye/REUTERS
Secret papers reveal that in the 1990s the oil giant routinely worked with the army to suppress resistance to its activities
Shell has never denied that its oil operations have polluted large areas of the Niger Delta – land and air. But it had resisted charges of complicity in human rights abuses.
Court documents now reveal that in the 1990s Shell routinely worked withNigeria's military and mobile police to suppress resistance to its oil activities, often from activists in Ogoniland, in the delta region.
According to Ogoni activists, several thousand people were killed in the 1990s and many more fled that wave of terror that took place in the 1990s.
Among the documents was a 1994 letter from Shell agreeing to pay a unit of the Nigerian army to retrieve a truck, an action that left one Ogoni man dead and two wounded. Shell said it was making the payment "as a show of gratitude and motivation for a sustained favourable disposition in future assignments".
Brian Anderson, the director of Shell Nigeria during those years, said in 2009, after the New York settlement, the company had "played no part in any military operations against the Ogoni people, or any other communities in the Niger Delta, and we have never been approached for financial or logistical support for any action".
But he conceded that Shell had paid the military on two occasions.
The company has been sued many times over its conduct in Nigeria. Amnesty International and Human Rights Watch (HRW) say oil companies working in the delta, of which Shell is the largest, have overseen a "human rights tragedy". Most of the alleged human rights abuses, they say, follow the companies' refusal to abide by acceptable environmental standards.
Despite the flood of lawsuits, cases can be delayed for years. Very few people are able to take on the oil giant, which has 90 oil fields in the delta where it has operated since the 1950s.
In 2009, Amnesty international said oil companies in Nigeria had fostered a "human rights tragedy" with continual oil spills, gas flaring and waste dumping. "The people of the Niger Delta have seen their human rights constantly abused by oil companies that their government cannot or will not hold to account," said Audrey Gaughran, the group's global issues director.
SOURCE:
Shell oil paid Nigerian military to put down protests, court documents show | World news | The Guardian